BIGGER THINKING FOR NANOMEDICINES
NanoFacT – Continuous Nanomanufacturing Platform
NANOFACT // ROBUST, FLEXIBLE, MODULAR, AND CONTINUOUS NANOMANUFACTURING PLATFORM
PROJECT LEAD: Dr. Carolin Tetyczka

PROJECT DURATION: June 15, 2022 to June 14, 2025

Nanomanufacturing involves multi-step batch-based processes, which are time-consuming, cost-intensive, and challenging to control. The conversion from laboratory to large-scale production may lead to changes in physicochemical properties and consequently impair the safety and efficacy of nanopharmaceuticals. Accordingly, there is a substantial strategic need to develop robust, scalable, and versatile nanomanufacturing platforms that enable continuous, fast, high-yield, controllable, and flexibly configurable production of nanomedicines at both large and small scales.
The NanoFacT project, therefore, aims to establish such a manufacturing platform, including industrially-relevant technologies that allow the exact adjustment and monitoring of physicochemical nanoparticle properties. Individual GMP-compliant and scalable processes (i.e., (high)-shear mixing, Microfluidizer Processing, impingement jet mixing, and active cooling techniques) will be equipped with process analytical technologies (PAT), such as spatially resolved dynamic light scattering for inline particle size measurement, electrophoretic light scattering for zeta potential monitoring, and spectroscopic methods to ensure drug encapsulation and achieve product and process monitoring. Optionally, an attempt is made to link and centralize the control logic of the individual units. In addition, multidisciplinary approaches to Quality by Design to determine process- and product-critical parameters will be established. Suitable individual processes will be linked to create a proof-of-concept prototype of a flexible continuous production line at a laboratory scale.
This rational combination will massively change the production of nanopharmaceuticals for various applications, including oral, parenteral, enteral, and topical applications, by achieving high-quality products with faster product release, shorter cycle times, and lower labor and energy costs than possible with bulk techniques.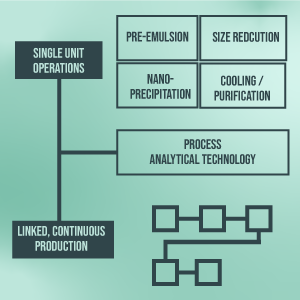 01
Establishment of process understanding of modular individual processes
02
Implementation of Quality-by-Design Principles
03
Development and implementation of PAT Tools and intelligent sensors
04
Design of a modular toolbox for a continuous nanomanufacturing platform
THE LATEST ABOUT NANOFACT